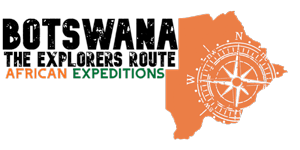 Botswana: The Explorer's Route

We take quite the unique approach to Botswana with our Explorers Route Adventure, following in the footsteps of the great explorers before us, we take to this adventure with the mind-set of one day at a time, enjoying every single moment.
Here we focus on being as far off the beaten track as possible, avoiding regular tourist routes as best we can.
We work with having a starting and endpoint / date, the rest in-between is completely up to us, being able to adapt and change our routes completely according to our day's progress as well as our clients' preferences. Want to extend the stay at a certain spot because it's just simply too awesome to move on? No problem!
On this safari, we work on 7 – 12 nights, depending on weather conditions, migration patterns, sightings and of course client preferences.
Our main focus on this will be the lesser-known parts of the Makgadikgadi Pans, especially the Southern part, where we explore from our own little slice of the pans, a very well hidden gem we call Island X, as well as the Khwai / Moremi wilderness areas taking on what we know to be the most isolated route in Botswana via Linyanti to the Okavango Delta.
This is a full-on camping trip, avoiding population as far as we can, except for those re-stock points of course.
The Tour features
:
Tough but not a 4×4 challenge.
We have a start and end date, no fixed itinerary. Our camp is determined by the days progress.
Makgadikgadi Pans.
Khwai / Moremi wilderness area.